Listings on Your iPod
Now you can search the multiple listing service (MLS) for all Pacific Northwest properties on your iPod by simply downloading a dedicated application available in the iTunes store online. The easiest way to find it in iTunes is to search for "Sequim" and you'll find the "Sequim and Port Angeles Real Estate" app. This is another first for Clallam County and Chuck Marunde, who continues to set the pace for online real estate services. This is the first dedicated iTunes application for Sequim and Port Angeles, and if you're traveling, or if you have an iPod Touch with wireless access, you can search the entire MLS and get photos and listing details in a great colorful format.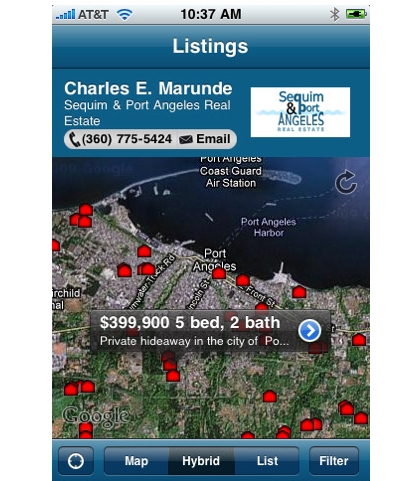 Searching the Internet for your next home should be easy, and I've made it easy for you, whether you are on your PC or laptop or on your mobile device. But searching the Internet for homes and land also ought to be free and NOT require you to register your personal information. I give that to you also, because I believe that's the way it should work.
You can also read the largest real estate blog in the entire area on your iPhone or your iPod Touch by simply going to:
SequimRealEstateNews.com on your mobile device, and Voila! the latest articles, photos, and videos instantly appear. Convenient. Free. No registration. Absolutely confidential.
"Wait, there's more," as the commercial used to say. What if you got an experienced attorney free with your buyer's agent? As your buyer's agent, I give you everything I learned in 20 years of real estate law practice free. I'm retired from law practice, or as I like to say, "I'm a recovering attorney." But you don't pay me anything additional for protecting you from legal liabilities and watching your backside. In fact, if you are buying an existing home, I still don't cost you anything since the seller pays my commission.